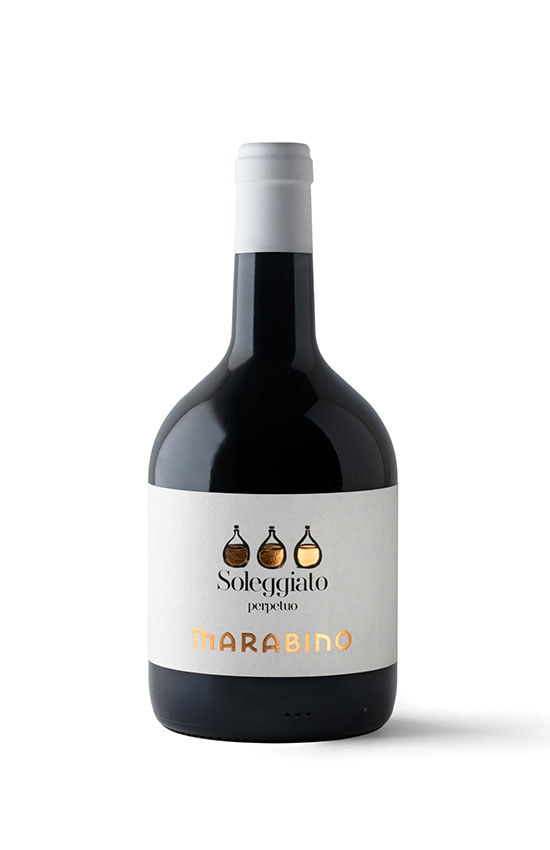 "Soleggiato" wine, fruit of the earth, of man and of the sun. An ancient technique that exploits the heat and light of the Val di Noto, in order to give unexpected, complex and fragrant wines that tell the energy of Contrada Buonivini. The muscatedda grapes dried in the sun, ferment spontaneously with the skins to obtain a dry wine that evolves for years in barrels, followed by aging in steel using the traditional perpetual method, with decanting of small parts of new wine in tanks with aged wines of more harvests, the wine concludes its production process with a long period of exposure to the sun in glass demijohns. The wine has complex aromas of dried fruit and Mediterranean scrub gaining balance and aromatic complexity in an oxidative style thanks to the action of the sun.
To depict this wine we have decided to enhance the ancient technique that characterizes this product with the image of our demijohns placed in the sun, full of light and energy.

Territory
Val di Noto, Buonivini district
Varietal
White Moscato.
Soil
Limestone with fine texture ; Alluvial black.
Vineyards
muscatedda,  fondo alla palma
Training system
Spurred cordon, alberello impupato/ free standing bush.
Altitude above sea level
44 mt 
Exposure
West
Yield per hectare
50 qli/ha – 18 hl/ha
Agricolture
Biodynamics, with no use of herbicides, no treatments and / or chemical and / or synthetic fertilizers; pesticide treatments are limited to low doses of mine sulfur; fertilizations is limited to biodynamic preparations, shredded pruning and green manure of grasses and legumes.
Vinification
Drying of the grapes on racks placed in the sun, spontaneous fermentation in steel tanks with the skins.
Maturation
In barriques of various essences for 30 months, in steel tanks with perpetual wine from several harvests, complete in demijohns placed in the sun for a year.