The first time I was in Champagne I tried to do something different from the usual, that is to say almost exclusively tasting wines from tanks and casks to understand how this extraordinary sparkling wine was born. Nothing new, I simply realized how important it is for me to go to the origin of things every time, to try to understand them fully. Wine is extraordinary in this, few other products in fact allow us to feed our curiosity, our thirst for knowledge through a potentially infinite number of tastings between different territories, styles, interpretations, harvest after harvest.
Furthermore, each of us experiences wine in a different way, for this reason it is perfectly normal that there are periods during which we feel more or less close to specific types, so much so that at a certain point we find ourselves unable to do without certain wines . This is what happened to me with the so-called oxidatives. The Marsalas, as well as the legendary "Vin Jaune" from Jura and many others. I'll make it short: in my small way, years ago, I started studying to produce an oxidative wine myself from the grapes of my territory, in particular from what was the predestined protagonist: the "Moscato di Noto"!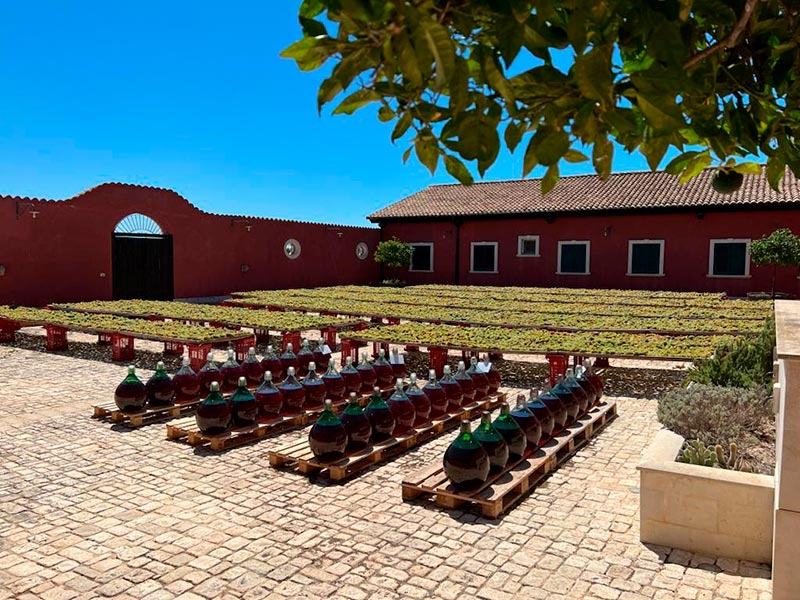 I began my experiments leaving barrels of sweet and dry "Moscato" unfilled, the years went by but the wine did not take on any oxidative character, even by placing the barrels in hotter places. With the pandemic I decided not to bottle the production of "Fondo alla Palma" (a dry wine from "Moscato" grapes), so together with a part of "Moscato della Torre" (our "Passito") I put the wine in some mulberry, oak and chestnut barriques to mature without ever fill them: I had to be able to oxidize them somehow! At the same time I began a broader search in order to understand what were the best techniques. Leafing through an oenology book from the 1970s, I discovered a methodology I had never heard of called "soleggiamento", that is to say the simple exposure of the wine to the sun, according to which wines gain in complexity thanks to the action of the sun.
Light and heat are two protagonists in our area. Here in Contrada Buonivini we boast a sky that is always clear and cloudless, full of light thanks also to the proximity to two seas, and there is plenty of heat. I began the first tests by placing the bottles near a white wall facing south, for one or two weeks. Then I started buying demijohns (difficult to find) and I extended the exposure to the sun for a month. I dared even more and went up to six months and…surprise! The wine improved, assumed more and more complexity while maintaining the typical varietal aromas of "Moscato".
After twelve months of exposure to the sun I have not noticed any more evolutionary variations. During the "soleggiamento", I measured the temperature of the wine in the center of the demijohns and near the glass, especially in the hottest months the temperature peak was reached: 54.4 Celsius degrees.
In the meantime I bought Spanish and French wines produced with a similar technique, but mostly they were sweet wines, fortified, exposed to the sun and then aged in barrels. My intent was not to produce a liqueur or a sweet wine, I wanted a dry oxidative. So we acted differently, I wanted a well-developed wine, we let it mature in barrels of different essences for a total period of thirty months.
I put the new vintages of Fondo alla Palma and Passito in the barrel, in the meantime, I combined all the wines which I had undergone a passage in wood – in search of oxidation – in a single mass, in a "perpetual" steel tank. From that I took the wine to be exposed to the sun, in demijohns, for a year. A practice that in the eyes of many would seem absurd but which in the end allows the production of a unique wine of its kind.
Thus was born our new perpetual "soleggiato", which in English means sunny!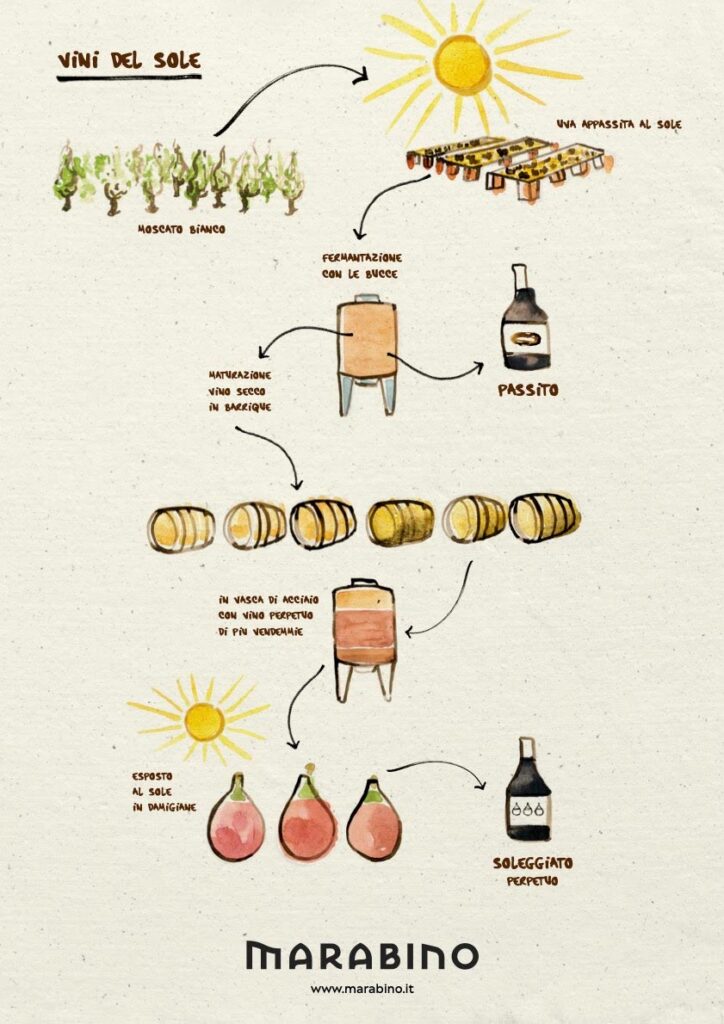 Light, heat, oxygen are all factors which can compromise a wine, especially a white wine. In this case they have been great allies, we have defied every oenological rule to obtain a unique wine of its kind, son of the energies of the territory where it is born: sapling vineyards, calcareous soils, light and heat, a true local wine.
Oxidative wines are very versatile from a gastronomic point of view. In this case our "Soleggiato", as we named it, has an almost imperceptible oxidative nuance, salty and fresh that invites you to drink it while maintaining the typical notes of moscato in a context that sees it well in multiple situations, from the aperitif to the combination with seafood, smoked fish, spicy dishes and light blue cheeses. The "Soleggiato" is a perpetual wine, completely dry and with a low alcohol content (12.5% vol.), so you will not find the vintage in the bottle but we have decided to specify the year of bottling in order to be able to distinguish it from future editions!
Enjoy the taste,
Pierpaolo Messina