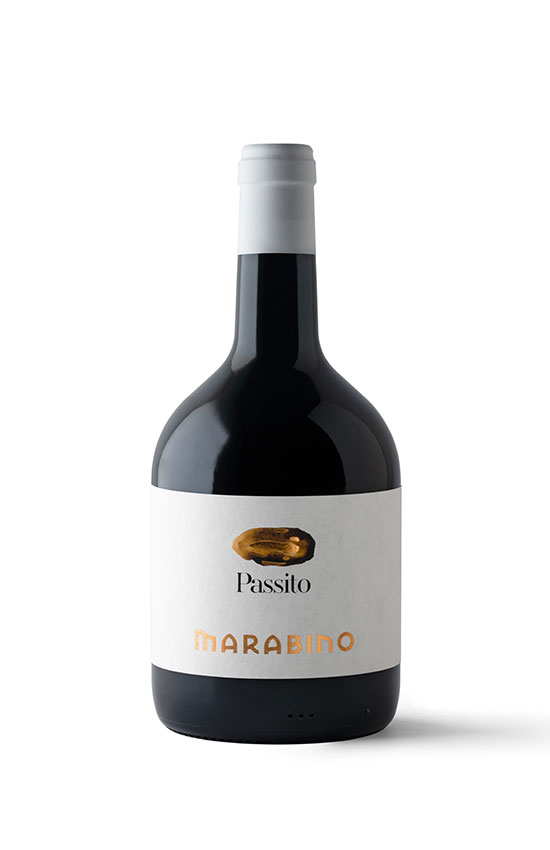 Wine from dried grapes of ancient origins.
The vineyard, in the Buonivini district, exposed to the west in spurred cordon, on white calcareous soils at 50 meters above sea level. The low yield, the light, the winds and the heat of the place, give to the Moscato Bianco grapes an original typicality, which revolves around the fragrance and finesse. The harvested and well-ripened grapes are placed on the trellises of our "baglio", in white Modica stone, in order to ensure them the light and the warmth of August, necessary for the drying of the bunches. Vinified with the skins, the fermentation takes place in steel until its interruption, through the use of cold. It matures in steel until the spring following the harvest. Sweet, delicate, well-balanced, never cloying wine.
For our passito we wanted to stylize the image of a raisin moscato grape, with its nuances rich in lights and shadows, like those that live in all of us.

Territory
Val di Noto, Buonivini district
Varietal
White Moscato.
Soil
Limestone with fine texture  
Vineyards
muscatedda, pozzo
Training system
Spurred cordon, alberello impupato/ free standing bush.
Altitude above sea level
44 mt 
Exposure
West
Yield per hectare
50 qli/ha – 18 hl/ha
Agricolture
Biodynamics, with no use of herbicides, no treatments and / or chemical and / or synthetic fertilizers; pesticide treatments are limited to low doses of mine sulfur; fertilizations is limited to biodynamic preparations, shredded pruning and green manure of grasses and legumes.
Vinification
Drying of the grapes on racks placed in the sun, spontaneous fermentation in steel tanks with the skins.
Maturation
In steel, bottled in the spring following the harvest.